Kwan Um School of Zen
Sangha Weekend (August 2019)
Sangha Weekend (August 2019)
The Kwan Um School of Zen / Europe and Israel together with the Bori Zen Center (Barcelona) and Bori Sa (Alta Garrotxa), cordially invite you to join our European Sangha Weekend. This event, during which all members of Sangha meet, share experiences and forge our community, will take place at the end of the summer retreat led by Zen Master Bon Shim (August 24 to 30). There will be several activities, such as an Inka ceremony, mountain hiking, outdoor dining, music and entertainment.
Date

Agust 31 d'agost – September 1 2019
Arrival

We encourage all participants to attend the prior 1 week retreat with Zen Master Bon Shim from August 24 to 30 (see the summer retreat information here).
If you attend the retreat, we will take care of your transportation and no additional fees will be charged for Sangha Weekend… best deal!
If you can only come for the Sangha Weekend: please, do everything possible to arrive on Friday, noon or afternoon.
Transport

Borisa is very isolated in the mountains, so it's necessary that you organize your own transport (the best way is to rent a car or van at the airport, Barcelona or Girona). We recommend traveling in groups of people to organize yourself better.
You can use  this excel document  to specify the groups.
Possibiliy to stay in Borisa or Bori Centre Zen of Barcelona after the event (at Barcelona Bori Center Zen there are very limited places!).
Please, if you come by plane, try to catch your flight to arrive early at the airport and return flight to leave the airport as late as possible, as there may be traffic jams.
Accomodation

Borisa: Shared rooms and option of camping (with your own tent or provided by Bori Sa -number of tents limited). Please bring sleeping bag and towels.
Hotel Orri: 10 minutes by car from Borisa, individually organized. Agrotourism house: 4 bedrooms, sleeps 8.
Hotel Serradell: already booked for teachers.
Address

Puli, Sales de Llierca, 17853, Alta Garrotxa (Girona), Espanya;
GPS: 42.294420, 2.639844 (Google Maps)
How to get there: Download detailed instructions (PDF)
Registration:

70€* (90€ from June 1st).
Only one day: 30€
* Don't let the price stop you from coming! If you can not come because an economic issue, please contact the Zen Center at: boricentrozen@hotmail.com
Deadline for registration: June 1st.
Payment

Make the payment at registration with one of the payment methods specified.
Transfer to the following bank account (be sure to add "name and surname-SW2019" as the transfer concept):
Associació Bori Centre Zen
Bank: Caixa Bank
IBAN: ES26 2100 0539 7201 0050 3923
SWIFT: CAIXESBBXXX
Concept: name and surname-SW2019
PayPal
boricentrozen@hotmail.com
Be sure to indicate "name and surname-SW2019" when making the payment.
Soeng Hyang SSN
will start her «Guest Teaching Tour 2019» in Europe
in the Sangha Weekend at Borisa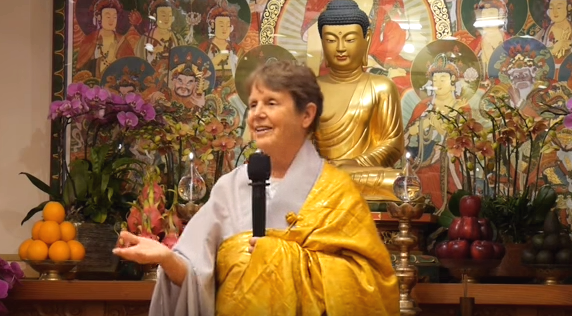 Zen Master Soeng Hyang (Barbara Rhodes) is the School Zen Master of the Kwan Um School of Zen. She received dharma transmission from Zen Master Seung Sahn on October 10, 1992. She was one of Zen Master Seung Sahn's first American students and studied with him beginning in 1972. She was given inka in 1977. A registered nurse since 1969, she currently works in hospice care. She helped found Providence Zen Center, and lived there for seventeen years, serving in a number of administrative capacities. Zen Master Soeng Hyang has a daughter and lives with her partner, Mary, in California.
These weekends offer ceremonies, workshops and community meetings, and are a great opportunity to meet other Zen practitioners, and spend time with teachers and friends.
Saturday
05.30h  Wake Up
06.00h  Morning Practice
07.45h  Breakfast
09.00h  Work Period to 10.20h
11.00h  Inka Ceremony
14.00h  Lunch
16.00h  Excursion (Treu Petit)
19.00h  Dinner
20.30h  Party (Music & Entertainment)
Sunday
05.30h  Wake Up
06.00h  Morning Practice
07.45h  Breakfast
09.00h  Work Period to 10.20h
11.00h  MoM (Meeting of Members Kwan Um School Europe)*
13.00h  Excursion (Puig dels Moros/Bassegoda Castel)
14.00h  Dinner
*Read more on Meeting of Members here.
*Let your abbot or GT know, that you are going, so you can become your official Sangha representative during MoM. Read more here.